Missions
Disciples Mission Fund
History of the Disciples Mission Fund
In 1909, two committees were appointed to develop a means by which congregations could contribute to a common funding system, benefiting the whole church. In 1941, after 32 years of conversation, Unified Promotion began. Unified Promotion was a covenantal agreement in which congregations agreed to contribute ten (10%) of their local operating receipts to the common mission fund of the church. In exchange, the General church would reduce Special Offerings from fifteen (15) to six (6) and ministry would no longer contact congregations directly for operating gifts.
Unified Promotion would later become Basic Mission Finance, which now exists as Disciples Mission Fund.
About the Disciples Mission Fund
Disciples Mission Fund is the common fund of the Christian Church (Disciples of Christ). Disciples Mission Fund supports 72 ministries of wholeness as close as your local congregation and reaching around the globe. As a Global Mission church, we understand that equipping congregations for mission includes learning from, learning with and offer support our partners beyond the borders of the United States and Canada.
Using a Common Funding System
As a movement for wholeness in a fragmented world, we use a common funding system to all congregations to share resources with one part of the churches ministry that are then shared across the life of the church.
The mission funding system, as overseen by the General Board, is a pre-allocated means of offering gifts in support of region ministries, general ministries, and institutions of higher education. The mission funding system allows the church to partner together for promotion and interpretation and the receipting and distributing of gifts.
Where the gifts come from: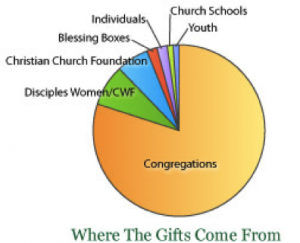 81.21% – Congregations
8.85% – Disciples Women/CWF
6.70% – Christian Church Foundation
1.59% – Blessing Boxes
1.58% – Individuals
.045% – Church Schools
.025% – Youth
In our history section you will learn that in 1941 the International Convention of the Christian Church voted to share in a common funding system. Each congregation agreed to give ten (10%) percent of their local operating receipts to the church and each General Ministry agreed to not raise funds directly from the congregations.
How the Gifts are Distributed:
47.8% – Regional Ministries
35.6% – General Ministries
8.9% – Higher Education Institutions
6.2% – Office of General Minister and President
1.5% – Other Ministries
In addition to Disciples Mission Fund general contributions, Disciples have given generously through Special Day Offerings.
Disciples Mission Fund Special Day Offerings
Disciples Mission Fund Special Day Offerings allow Disciples to give with specific intention 6 times during the year. Congregations or individuals provide these over-and-above gifts in support of designated ministries.
Easter
Easter provides support for the General Ministries of the Christian Church (Disciples of Christ.) These ministries operate across the U.S. and Canada as well as around the world.
Through care, service and advocacy for others; sharing resources, stories and worship, general ministries partner with region to strengthen congregations for the mission of the church.
Pentecost
Pentecost gifts support the development and growth of new churches. Fifty percent of the offering is available for new church ministries in the regions it was given and the remainder supports the General Assembly's New Church Priority that is housed in Church Extension.
All gifts to the Pentecost Offering directly support the operating expenses of new congregations and the training of new church pastors, mentors and coaches.
Thanksgiving
14 Colleges and Universities; and 7 Theological Institutions receive direct support through this offering, further nurturing the relationship between the church and educational institutions.
Your support of the Thanksgiving Offering provides scholarships and pastoral care to Disciples students at Disciples Schools. Your gifts are directly impacting the lives of leaders who will serve the church for years to come.
Christmas
The Christmas Offering directly supports regions in their mission to extend the ministry of Christ in mission, teaching, witness, and service among the people and social structures of the region.
Regions also establish, receive, and nurture congregations, providing help, counsel, and pastoral care to members, ministers, and congregations in their mutual relationships, and relating them to the worldwide mission and witness of the whole church.
Regional Ministries provide pastoral care and enrichment programs in 33 areas of the U.S. and Canada. Regions are often known for their outstanding camp and conference programs as well as the development and ordination of ministry candidates. All funds raised through the Christmas Special Day Offering remain in the region given.
Week of Compassion
Week of Compassion is the Disciples witness in the face of natural or man-made disasters. Floods, hurricanes, fire, civil wars, poverty, disease are only a few of the challenges Week of Compassion responds to on behalf of Disciples. The Special Day offering is the only church-wide effort to provide general funding for the ministry. You can learn more about week of compassion at: http://www.weekofcompassion.org/
Christian Church in Kentucky – West Area
CCK West Area operates as an integral part of the Christian Church In Kentucky (Disciples of Christ).
The 47 congregations in the West Area have a rich tradition in ministry that today is ever expanding in itsscope and promise. As a key component of the whole ministry of our churches, the West Area ministry:
Assists congregations when they search for ministerial staff;
Maintains a communication network among all 48 congregations and their ministers;
(The West Area Coordinator is published at least 4 times a year. A Directory of Churches and Ministers is mailed annually to each congregation.)
Through our two Committee on Ministry Interview teams nurtures persons who are called to ministry;
Offers consultation to local churches as they plan for their future witness and service;
Reaches out to individual pastors with encouragement and support;
Coordinates West Area programs like the All Disciples Sing, the West Area Celebration;
Supervises and administers Camp Kum-Ba-Ya facilities, staff and programs. Over two hundred children and youth participated last summer. These numbers are important because behind each one is a young person who is being nurtured in the Christian faith and prepared for church leadership.
Good Samaritan Center
This is a collective ministry sponsored by the various churches in Logan County. This Ministry helps people who are struggling financially through helping to pay bills, provide food assistance and several other ways.
Christian Care Communities:
Christian Care Communities is Kentucky's largest faith-based not-for-profit provider of affordable senior retirement living and long-term care for Older Adults.
Founded in Louisville in 1884 to care for widows and orphans, today Christian Care serves Older Adults through an extensive network of senior communities and services, including:
Independent Living
Assisted Living
Skilled Nursing Care
Short-term Rehabilitation
Long-term Care
Adult Day Care
Senior Living Communities

Older Adult Communities & Services throughout Kentucky
Christian Care Communities prides itself on its role as Kentucky's premiere provider of affordable Older Adult housing and services.
We've made it our mission to enhance the journey of life for Older Adults by providing the flexibility to stay as independent as possible by offering services on campus to help residents "age in place."
From well-appointed garden and patio homes, to Housing and Urban Development (HUD) supported independent and assisted living apartments, to transitional and skilled nursing care, Christian Care offers an array of options.
Our statewide network of senior living communities provides more than a place to live—we provide a place to call "home." Investigate the possibilities for you or your loved one in the following locations:
Louisville, Lexington, Bowling Green, Corbin, Hopkinsville, Owensboro, Taylorsville, or Grayson, Kentucky.
What Gives Christian Care An Edge?
Pastoral Care/Chaplains Serve Body, Mind & Spirit
Our commitment to pastoral care and full-time chaplains for our residents distinguishes our offerings from other senior communities.
Inspired by the teachings of Jesus Christ, full time chaplains serve the majority of our senior communities. They offer weekly worship services, Bible study, and more intensive, one-on-one counseling for residents who need guidance. We consider this key to the mission of serving the whole person—body, mind, and spirit.
We also have an extensive church outreach program to more than 230 Independent Christian and Disciples of Christ/Churches of Christ, who are valuable partners in supporting initiatives and volunteerism.
Lucy's Coat Closet:
Our church has a coat closet housed in our building.   As an outreach project to our community we provide coats at no charge to anyone in the area who is in need of a coat.