Cane Ridge
CANE RIDGE MEETING HOUSE
The Birthplace of the Restoration Movement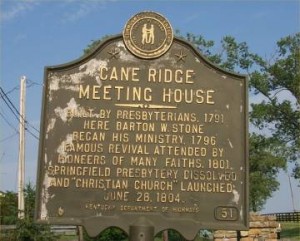 The Restoration Movement is the movement that started the Christian Church, the Church of Christ (non-instrumental) and the Disciples of Christ.
First Christian Church of Russellville is affiliated with the Christian Church (Disciples of Christ) and other than church history, we have no ties to the Church of Christ or the Independent Christian Church.
A Church of Pioneers
A group of Kentucky's early settlers built Cane Ridge Meeting House in 1791. Nestled among Kentucky's rolling hills and gracious horse farms, Cane Ridge Meeting House is located on State Highway 537 in Bourbon County, Kentucky. It is believed to be the largest one-room log structure standing in North America. It is the symbol of the late 18th and early 19th century Western Great Revival. The Cane Ridge Presbyterian congregation with its pastor Barton Warren Stone were hosts for the event that took place here in August 1801.
Following the advice of pioneer explorer and guide Daniel Boone, a group of Scots-Irish Presbyterians from North Carolina settled in the area in 1790. At the same time that they were building homes and establishing livelihoods, they cut and hewed blue ash logs for the Meeting House's walls and oak and chestnut trees for beams and roof supports.
Religion on the Frontier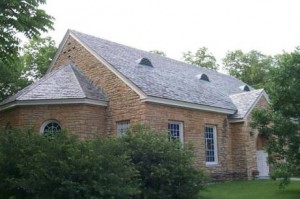 The young Presbyterian minister, Barton Warren Stone (1772-1844), arrived on the western frontier to pastor at Cane Ridge in 1796. By the end of the century, Presbyterians in Kentucky, southern Ohio, and northern Tennessee traveled to each other's sacramental communion services which typically began on Friday or Saturday and continued through Monday. Joining them in increasing numbers after a meeting at Red River in Logan County in June 1801 were Methodists and Baptists as well as the "unchurched".
The Revival of August 1801 at Cane Ridge was the climactic event of the Western Great Revival. It was estimated by military personnel that some 20,000 to 30,000 persons of all ages, representing various cultures and economic levels traveled on foot and on horseback, many bringing wagons with tents and camping provisions. Because of the numbers of people attending and the length of the meeting, Cane Ridge has become the metaphor of the Great Revival. Historical accounts recall the contagious fervor which characterized the meetings that continued day and night. Descriptions abound of individuals, taken by great emotion, falling to the ground, crying aloud in prayer and song, and rising to exhort and assist others in their responses to the moment. Worship continued well into the week following the serving of Communion on Sunday, in fact, until provisions for humans and horses ran out.
The sacramental gatherings of the Presbyterians, already undergoing transformation by the time of the August 1801 Cane Ridge Revival, contributed to the growing camp meeting revivals. Participation by Methodists added an emotional evangelical quality that Presbyterians had previously tried to hold in check. Baptists attended, however, many were in a parallel meeting of the South Elkhorn Baptist Association.
Birth of "The Christians"
In 1804, a small group of Presbyterian ministers from Kentucky and Ohio, including Stone, penned and signed a document, "The Last Will and Testament of the Springfield Presbytery", at Cane Ridge that resulted in the birth of a movement seeking unity among Christians along non-sectarian lines. They would call themselves simply "Christians. The Christian Church, the Churches of Christ (non-instrumental), and the Christian Churches (Disciples of Christ), trace their origins here. This movement is often noted as the first one indigenous to American soil.
Preserving the History
Cane Ridge Christian Church congregation continued until 1921 when the declining congregation disbanded. The historic old building stood in its place awaiting recognition of its proper place in cultural and religious history.
The effect of the charismatic leadership of Alexander Campbell dominated the Stone-Campbell movement for many years after his death in 1866. In the 1930s the ministry of Barton Warren Stone was discovered anew. His role in the Cane Ridge Revival and the development of the Christians of the West sparked the desire to restore the Meeting House to its original appearance. This led to the organization by the Disciples of Christ of the Cane Ridge Preservation Project. After the Historic American Buildings Survey visited Cane Ridge in 1934, it was recognized by the US Dept. of the Interior as a building of national significance deemed worthy of saving. To protect it from weather, vermin, and woodpeckers, in 1957 a golden limestone superstructure around the log church was dedicated.
Religion on America's Western Frontier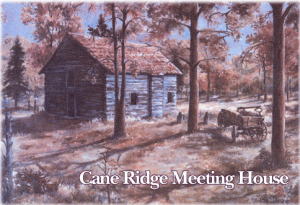 In early August 1801 as many as 20,000 to 30,000 people gathered at Cane Ridge Meeting House in Bourbon County, Kentucky, for a revival that became the defining event of the late 18th and early 19th century Western Great Revival period. Following the tradition of the Presbyterian seasonal communion celebration which had roots in 17th century Scotland, people with Presbyterian, Methodist, Baptist, and other religious persuasions as well as those with none, worshiped together. The seasonal sacramental events had captured the imaginations of the emerging American mind. It mattered not whether one was rich, poor, educated or not, or culturally sophisticated or not. To Cane Ridge they came and at Cane Ridge they intended to make camp and join a vibrant worship experience.
A new American tradition was in the making. Perhaps new to the sacramental occasion was the intentional bringing along of tents and camping provisions. Camp meetings were taking on a life of their own. The "revival meeting" was moving into its place in the American consciousness.
Two hundred years later, between August 4 and 12, 2001, the trustees and curators of the Cane Ridge Preservation Project invited all to honor those days of 1801 with nine days of celebration. Calling it "The Great Gathering," the climax of the nine days of prayer, praise, and worship was a communion service much like the one served in 1801.
The Signing of the Last Will and Testament of the Springfield Presbytery occurred in the Cane Ridge Meeting House on June 28, 1804, with Presbyterian ministers Robert Marshall, John Donlavy, Richard McNemar, Barton Warren Stone, and John Thompson, plus a ministerial candidate, David Purviance, signing the document. The Bicentennial Celebration took place June 26 – 28, 2004 at Cane Ridge with speakers, a drama, soloists, music groups, picnics and box lunches on the grounds, and an overnight prayer vigil in the Meeting House on the final night.
The Great Gathering had as its goal "To celebrate the influence and promise of the Great Revival." A distinguished advisory panel and committees from Central Kentucky churches worked to bring this about
Cane Ridge Day 2005, to be held from 9:30 a.m. to mid afternoon on Saturday, June 25, will deal with that happened when three Shaker missionaries appeared at Cane Ridge within a year of the signing of the last Will and Testament of the Springfield Presbytery to try to persuade Barton Stone and his colleagues into the Shaker camp. It took a mighty effort on the part of Barton Stone to control the damage done to the new movement by these newcomers to the Kentucky frontier.
The Great Revival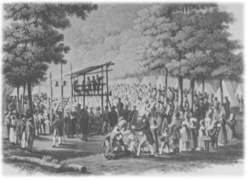 The time was right in 1801 for the people of middle America to get their souls in order. Settlers of European and African origin, indentured and free, had conquered a frontier – at least they had rendered it manageable. Their farms, towns, and villages were bustling with productive activity. Native Americans had been driven from the land. The Kentuckians' spirit of energetic application to any emerging questions had spawned countless divisions and now it was on the verge of nurturing a semblance of unity.
Barton Warren Stone, pastor at Cane Ridge Presbyterian Church, had taken advantage of various networks of communication, especially Methodist and Presbyterian meetings, to circulate word that the Cane Ridge sacramental communion was to be "one of the greatest meetings of its kind ever known." Congregations and pastors, determined not to miss it, packed up for journeys from not only Central Kentucky but also southern Ohio and northern Tennessee.
Sacramental communion events in the months preceding the one scheduled to begin in early August at Cane Ridge had attracted thousands of people – 4,000 at Concord, 6,000 at Lexington, and 10,000 at Indian Creek in Harrison County. The atmosphere was electric. Travelers from nearby and not so nearby began arriving on Friday, August 6, amidst a downpour of rain. By Saturday a Methodist neighbor Ilai Nunn observed that his grove was a part of the setting.
Colonel Robert Patterson, who had been involved in the settlement of Kentucky practically from the beginning, described with amazement the religious phenomena taking place during the sequence of meetings. His description of the Cane Ridge Revival, taken from a letter to the Rev. Doctor John King on September 25, 1801, is memorable:
"On the first Sabbath of August, was the Sacrament of Kainridge, the congregation of Mr. Stone. – This was the largest meeting of any that I have ever seen: It continued from Friday till Wednesday. About 12,000 persons, 125 waggons, 8 carriages, 900 communicants, 300 were struck. . . "
Patterson tried, "as well as I am able," to describe the emotion. "Of all ages, from 8 years and upwards; male and female; rich and poor; the blacks; and of every denomination; those in favour of it, as well as those, at the instant in opposition to it, and railing against it, have instantaneously laid motionless on the ground. Some feel the approaching symptoms by being under deep convictions; their heart swells, their nerves relax, and in an instant they become motionless and speechless, but generally retain their senses. . . He went on to describe other manifestations which continued from "one hour to 24".
"In order to give you a more just conception of it," Patterson continued, "suppose so large a congregation assembled in the woods, ministers preaching day and night; the camp illuminated with candles, on trees, at wagons, and at the tent; persons falling down, and carried out of the crowd, by those next to them, and taken to some convenient place, where prayer is made for them, some Psalm or Hymn, suitable to the occasion, sung. If they speak, what they say is attended to, being very solemn and affecting – many are struck under such exhortations. . . Now suppose 20 of those groups around; some rejoicing, and great solemnity on every countenance, and you will form some imperfect idea of the extraordinary work!
"Indeed it is a miracle, that a wicked unthoughtful sinner, who never could, or did address himself, to an audience before, should, rise out of one of those fits and continue for the space of two hours recommending religion and Jesus Christ to sinners, as a lovely Savior, free willing, and all sufficient, and calling to sinners and inviting them to come to Christ and close in with the offer of salvation, in the most pressing an engaging manner." (Source: Extract of a Letter from Colonel Robert Patterson, of Lexington, Kentucky to the Reverend Doctor John King, September 25, 1801.
Visiting Today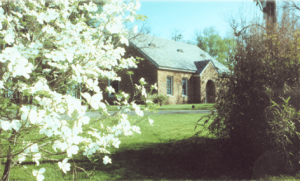 Cane Ridge continues to be a living church. Prayer, singing, and preaching occur in the Meeting House, a place of worship for many congregations and religious groups who come as welcome guests each year. Since the late 18th century and now, in the 21st century, worship services, weddings, celebrations, lectures, and other gatherings have taken place in the church and on its grounds. Each year thousands of travelers visiting Cane Ridge receive talks and tours from the curators.
The graveyard, burial site of many of the early settlers and Barton Stone, has unique ledger stones.  Barton Warren Stone is buried beneath a white granite obelisk.  His first wife Eliza's remains and ledger stone were brought from the graveyard at the farm where they had lived to the Cane Ridge graveyard in about 1930.
The museum houses mementoes of the congregation, Stone and his family, the Stone-Campbell movement, a collection of antique farm and domestic implements, the office of the Cane Ridge Preservation Projects and a small book shop.
WELCOMING VISITING GROUPS
Open to anyone in keeping with its original design as "a house of prayer for all people," Cane Ridge continues to extend its welcome. Here, countless thousands have worshipped in groups, large and small, or alone, have sat quietly for meditation.
SCHEDULE GROUP VISITS
To be assured that you are welcomed and space is available when you wish to bring a group to Cane Ridge, contact the curators ahead of time to schedule the visit. If your requested date is available, you will be sent a confirmation.
THE CANE RIDGE STORY
Cane Ridge is interested in interpreting and presenting "The Cane Ridge Story" to your group. Unless you have a very knowledgeable person who can make the presentation, it is a good idea to request the services of our experienced on-site curatorial staff to speak to your group and answer questions.
IF YOU PLAN TO WORSHIP, please note that all worship in the Meeting House must welcome all people so that everyone feels included and comfortable. Services must be reverent, meditative, emotionally controlled, relying on scripture, have messages that inspire and inform, are prayerful, and meet concerns and needs. Often, the focus, as of old, is on the Table.
WEDDINGS
As a number of couples are married each year at Cane Ridge, the curators are available to assist those interested in a Cane Ridge Meeting House wedding. A wedding policy and forms are given in the initial interview.
OPENING TIMES
Cane Ridge is open from 9 a.m. to 5 p.m. daily, from 1 to 5 p.m. on Sundays.
There are two seasons: Summer, April 1 to October 31 and Winter, November 1 to March 31.
SUMMER: Shrine with Meeting House, Museum with restrooms and picnic pavilion and areas are open. Curatorial staff is available.
WINTER: Shrine with Meeting House is open when a curator is available. Museum is not open. Displays are placed in the dark: restrooms are winterized. To avoid disappointment, it is best to phone ahead if you are planning to come in winter.
FINANCES
Contributions are expected of visitors. Cane Ridge asks that generous visitors play their part in giving this special place a future in the fourth century, "as the Lord has prospered them."
Cane Ridge is a church. It is not a state or federal facility. It charges no admission. The buildings and grounds are open and available to all who come in sincerity. The Meeting House is fragile. The grounds are properly maintained.